Sandboarding and Dune Buggy Tour Description:
For the past 12 years, the desert oasis of Huacachina has served as the site of one of the most popular adventure tours in South America: the dune buggy and sandboarding tour. People of all ages – including kids, teenagers, and adults – all visit Huacachina and climb into a 4-wheel-drive dune buggy driven by a professional driver. It is a must-do tour in Huacachina oasis.
Half the tour is riding in the dune buggy, up and down the dunes at fast speeds. And the other half of the tour is a chance to try the adventure sport of "sandboarding". This is just like snowboarding, but instead of snow you will be boarding on the fine-grained sand of the desert. If you aren't athletically talented, no problem! Just lay on your stomach on the board, and go "sand sledding". This is faster, lots of fun, and doesn't require any patience or ability.
The dune buggy and sandboarding tour in Huacachina Ica is an amazing thrill ride. But this is more than just a thrill ride: the gigantic sand dunes are beautiful, surreal and mesmerizing. A tour into the desert feels like an "out of this world" experience, almost like visiting the surface of another planet.
What To Bring
These items are important; bring them with you:
A sweatshirt (optional, it can get chilly in the evenings)
Wear Tennis shoes / sneakers (not sandals)
Sunscreen for the 10 AM and 1 PM tours
Shorts are recommended, but people who bruise easily might wear jeans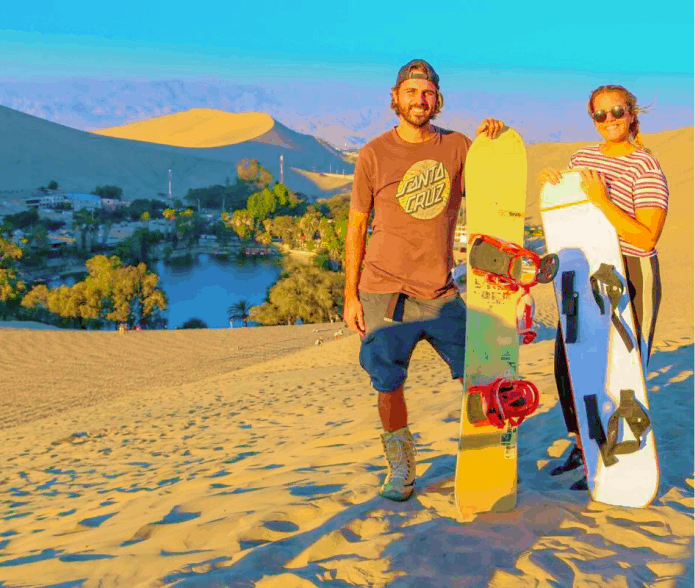 What Time Does It Start & Duration
The tours start at 10 AM or 4 PM and they last 2 hours. We strongly recommend that all visitors to Huacachina take the 4 PM tour. This is by far the best time of day to take the tour as you'll be able to catch one of the most beautiful sunsets at the end.
Where To Book
We strongly recommend taking a 1, 2 or 3 day trip to Huacachina, where you'll be able to do the sandboarding and dunebuggy tour AND other activities in Huacachina and nearby! Check out these award-winning day trips. They are the only company with guaranteed daily departures, all year round! All of their trips are ALL-INCLUSIVE, which means they include all tours mentioned as well as accommodation (or discount the price and choose your own accommodation). Only food is not included.
Frequently Asked Questions
Can I Drive A Dunebuggy Or Rent One In Huacachina?
No. For safety reasons, only the professional drivers can drive a dune buggy. This is not just for your safety – the desert is full of areas where people are sandboarding, and if you drive through these areas quickly you could easily injure someone. Plus, handling a dune buggy requires several months of training to do it properly: it is not easy at all.
You may like