Tour Description:
The Ballestas Islands is a vibrant and colorful wildlife sanctuary that is filled with wild birds and mammals, including sea lions, fur seals, and endangered Humboldt penguins. Considered the 'Peruvian Galapagos', the tour will allow you to see most of the Ballestas Islands' marine wildlife. During this two-hour boat tour, you will come face-to-face with these animals in their natural habitation while you are on board a speedboat. On rare occasions, it is even possible to see dolphins and whales. Obviously, this tour is a spectacular choice for animal lovers and birdwatchers.
In addition to the animals named above, a wide range of seabirds also call these rocky islands their home. You may see and hear pelicans, boobies, red-footed Guanay cormorants, and many other types of birds.
Early in the 20th century, the guano (bird droppings) from all these birds was collected and sold as fertilizer. Due to the vast quantities of this valuable substance, this became a major source of revenue for businesses on the coast.
During this tour, you can observe a mysterious geoglyph, similar to the Nazca Lines, that was carved into the face of a cliff over 1,000 years ago. This symbol is called The Candelabra, and it remains the source of much speculation and debate. It likely was created by the Paracas tribe living in the coast at that time, for reasons unknown.
What To Bring
These items are important; bring them with you:
Cameras (optional)
Sunglasses (optional)
Sunscreen / hats
A sweatshirt (optional, it can be chilly in the early morning)
Money for tips for tour guide or pilot (completely optional)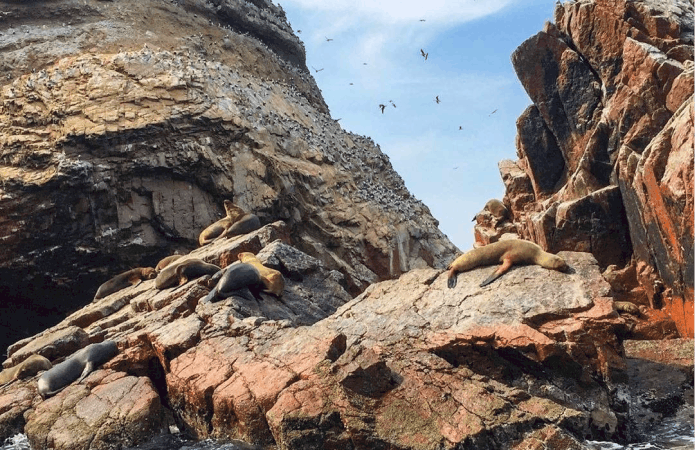 Departure Times & Tour Duration
If you are staying at a hotel in Paracas, or being picked up from the Paracas bus station, your pick-up time will be 7:40 AM. Then your tour will be from 8:00 AM – 10:15 AM.
For those passengers who are being transported from Huacachina or Ica, you will be picked up at your hotel at 6:30 AM. Paracas is one hour north of Huacachina and Ica, so we need to provide enough time to safely arrive without rushing. Your tour will be from 8:00 AM – 10:15 AM. Then we will return to Huacachina by around 12:00 PM.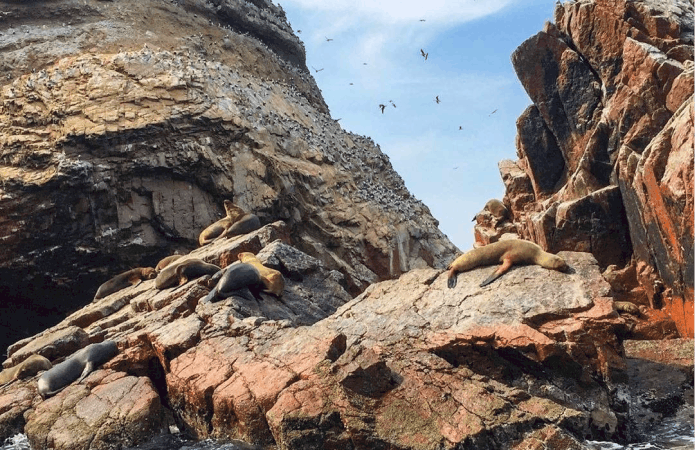 Useful Suggestions
There are no bathrooms onboard the speedboats in Paracas, so it is important to use the bathroom before your tour starts (bathrooms are available in Paracas) or after your tour finishes.
We recommend wearing sunscreen due to the harshness of the UV light on this part of the continent.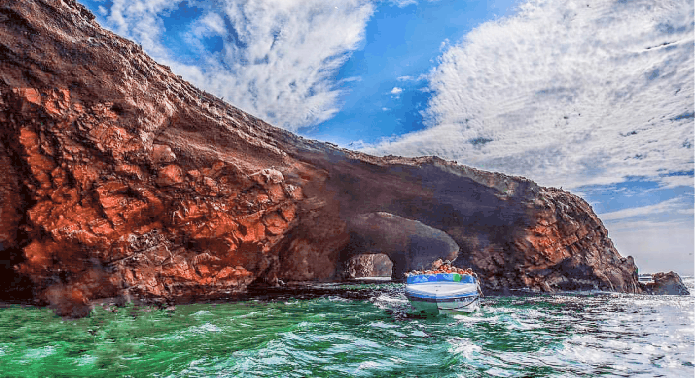 Where To Book
We strongly recommend taking a 1, 2 or 3-day trip to Paracas, where you'll be able to do the Ballestas Islands tour AND other activities in Paracas and nearby! Check out these award-winning day trips. They are the only company with guaranteed daily departures, all year round! All of their trips are ALL INCLUSIVE, which means they include all tours mentioned as well as accommodation (or discount the price and choose your own accommodation). Only food is not included.
You may like