The Best Things to Do in Paracas Peru
Unquestionably, Ica is the second most visited region of Peru, which is why you cannot leave behind the beautiful Paracas region, located just within this famous department. Paracas is, without a doubt, one of the perfect destinations to escape from Lima's stress and crowded streets; learn everything about this small beach town full of adventure and wonders ready to be discovered!
Receiving more than 500,000 visitors per year, Paracas has become a must-go destination for most travelers in Peru, which is why we have decided to teach you about the many different things to do in this outstanding town and its surroundings.
Paracas is located only 4 hours away from Lima, which makes it easily accessible for a weekend short trip, here you'll learn about the main attraction within this small town and we'll teach you how to make the most of it!
As aforementioned, Ica is one of the most visited departments of Peru by local and foreign travelers, this region comprehends a significant part of the Peruvian desert and the pacific coast, apart from being home to Huacachina also known as the only natural oasis in South America, and the Nazca Lines, the most famous mystery in the world!
Paracas has a lot to offer, keep reading and find out about the best activities in Paracas and make the most of your experience while traveling through Peru!
Ballestas Islands
The Ballestas Islands or Islas Ballestas are a group of 3 islands and different rock formations home to a diverse wildlife that includes humboldt penguins, sea lions, and exotic birds such as the red footed guanay cormorants. Besides having a vast biodiversity, on the way to these famous islands you'll be able to glance at one of the mysteries within this region, El Candelabro de Paracas, which is often related to the Nazca Lines.
Long ago, Peru used to rely on these islands since they are a Guano deposit, which is basically bird poop, which is extracted to make fertilizers due to its high concentration of nutrients.
The Ballestas islands are often referred to as "the poor man's galapagos", which is why they have remained as a protected area in order to preserve its ecosystem. If you wish to see the peruvian galapagos, you will have to take a boat tour. Keep in mind that since this is a protected area, you won't be able to swim with the animals but you can see them from up close.
Paracas National Reserve
The Paracas National Reserve is one of the main tourist attractions in Paracas, recognized for being the place where the desert meets the sea, giving you a visually striking spectacle that you simply can't miss. In 1975 was declared a National Reserve since it is home to over 400 species of flora and fauna.
This natural wonder in southern Peru expands over 3,350 km² and it's located only 10 minutes away from the small town of Paracas. Keep in mind that for visiting this protected area you must purchase the entrance fee, but most tour operators offer excursions to this location and include this additional cost.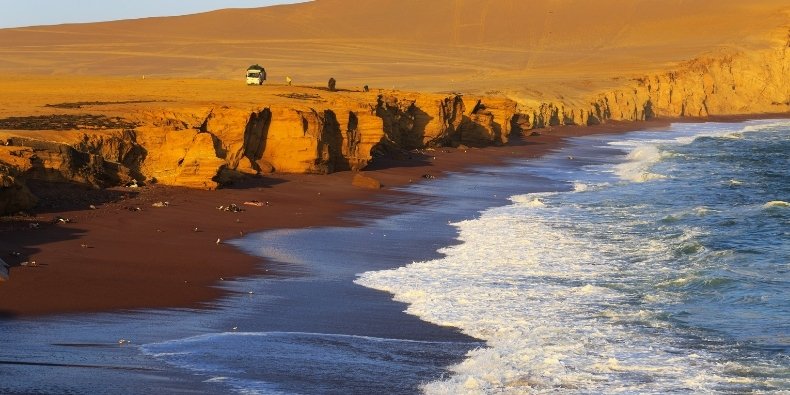 Paracas nature will continue to amaze you, one of the predominant assets of this national reserve is Playa Roja, a part of the Paracas Peninsula that will surely captivate you with its astonishing scenery since its sand has a reddish coloration due to the concentration of red sediments and different minerals.
To visit the Paracas National Reserve, we encourage you to go on a guided tour so you don't miss anything about this spectacular area. Here you'll find different activities such as going on a Quad Bike Tour or even a regular excursion through the place.
Kitesurfing in Paracas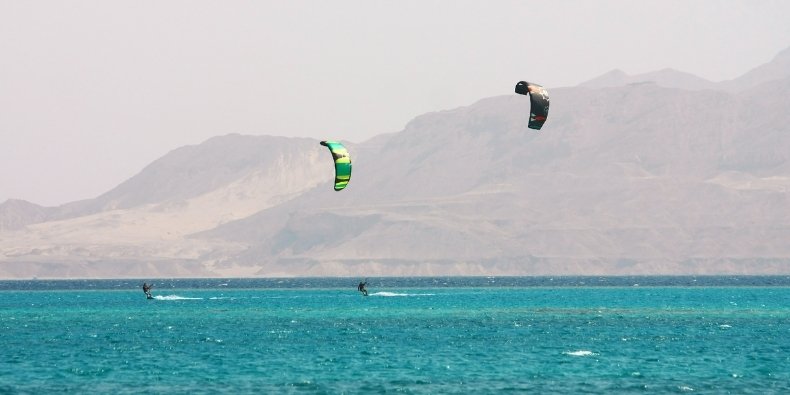 This is one of the most in-demand activities in Paracas since the wind speed in this region could reach 14.9 km/h making it the perfect location to practice this adventure sport. Compared to other water/wind-sports kiteboarding is relatively easy to learn, which is why many companies offer classes or quick lessons to master this exciting activity.
If you wish to practice Kitesurfing in Paracas, we advise you to take the necessary time to compare prices and tour operators so you can have a safe experience throughout the whole activity. FindLocalTrips.com is a platform used to compare tour companies and prices in Peru and South America, make sure to check it out while you're here.
How to Get to Paracas?
Paracas is currently accessible by bus since the nearest airport is in Lima. Therefore, if you're planning to visit this beautiful beach town, you'll have to take a public bus ride to Paracas. Keep in mind that if you're planning to start your trip from Lima, you'll find different bus companies so take the necessary time to compare prices and quality.
Unfortunately, in Lima there is no central bus terminal, each company owns its private terminal and sometimes it could be a hassle to find them. If you're planning to do this on your own, be aware that most bus companies make stops on the way to collect new passengers which could be unsafe.
Peru Hop is a bus company recognized for its travel experience, flexibility, and safety while going on a road trip through Peru. This bus company offers short trips from Lima including Paracas, Huacachina, and even some stops on the way. Don't be a typical tourist and dare to uniquely experience the best of Peru in the safest way possible!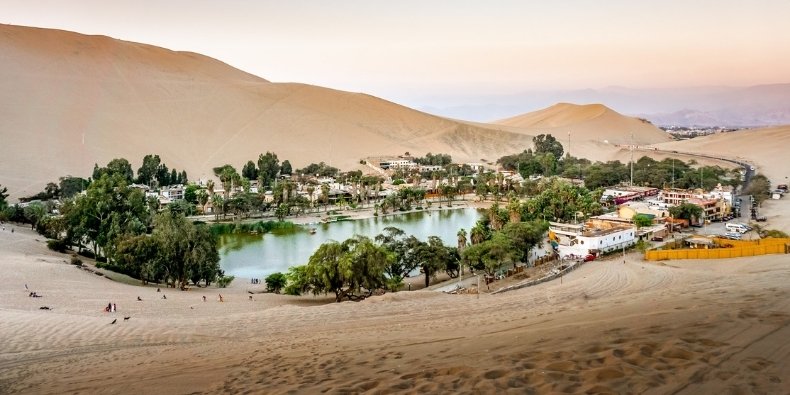 Paracas is one of the main tourist destinations near Lima that you cannot leave behind while going south of the country. Ica gathers, without a doubt, the best activities in Peru such as the Huacachina oasis, another location worth visiting in this area. Don't miss this opportunity and find everything about this natural wonder while you're here.